Happy holidays and a happy new year to everybody celebrating!
The past year was characterised by rising challenges met with collective resistance. Ecological catastrophe was met by burgeoning climate activism and increasing recognition of Indigenous peoples' roles in protecting the earth. The rise of authoritarianism was met by popular resistance and rebellion. The economic and political assault against workers was met by  the resurgence of the international labour movement, solidarity, and community building. We could go on. Anarchism is as pertinent as ever in helping to find the practical and theoretical ground for navigating these tensions with the goal of building a more just and ecological world. At The Commoner, we continue to platform examples of anarchist ideas and praxis around the world, highlighting radical liberatory thought to encourage and inspire our readers.
New Firsts for The Commoner in 2023
As we enter 2023, we wanted to share with you what we've done this year, what we are doing right now, and what we hope to do in future.
Right off the bat, we are proud to have released our first print edition of The Commoner, created by our editors and printed in collaboration with the excellent people at Organise! magazine. This featured two articles we published this year: Simoun Magsalin's manifesto on jaywalking and Søren Hough's anarchist approach to public health. Meanwhile, we have had the pleasure of publishing twenty-six articles, essays, and interviews this year, helping us attract tens of thousands of visitors to our site. Some particular favourites amongst our readers include our interview with the artist Airidescense, Luke Francis Beirne's essay on anarchism and surrealism, and Davel's eulogies for Brendan Hughes and Basel al-Araj.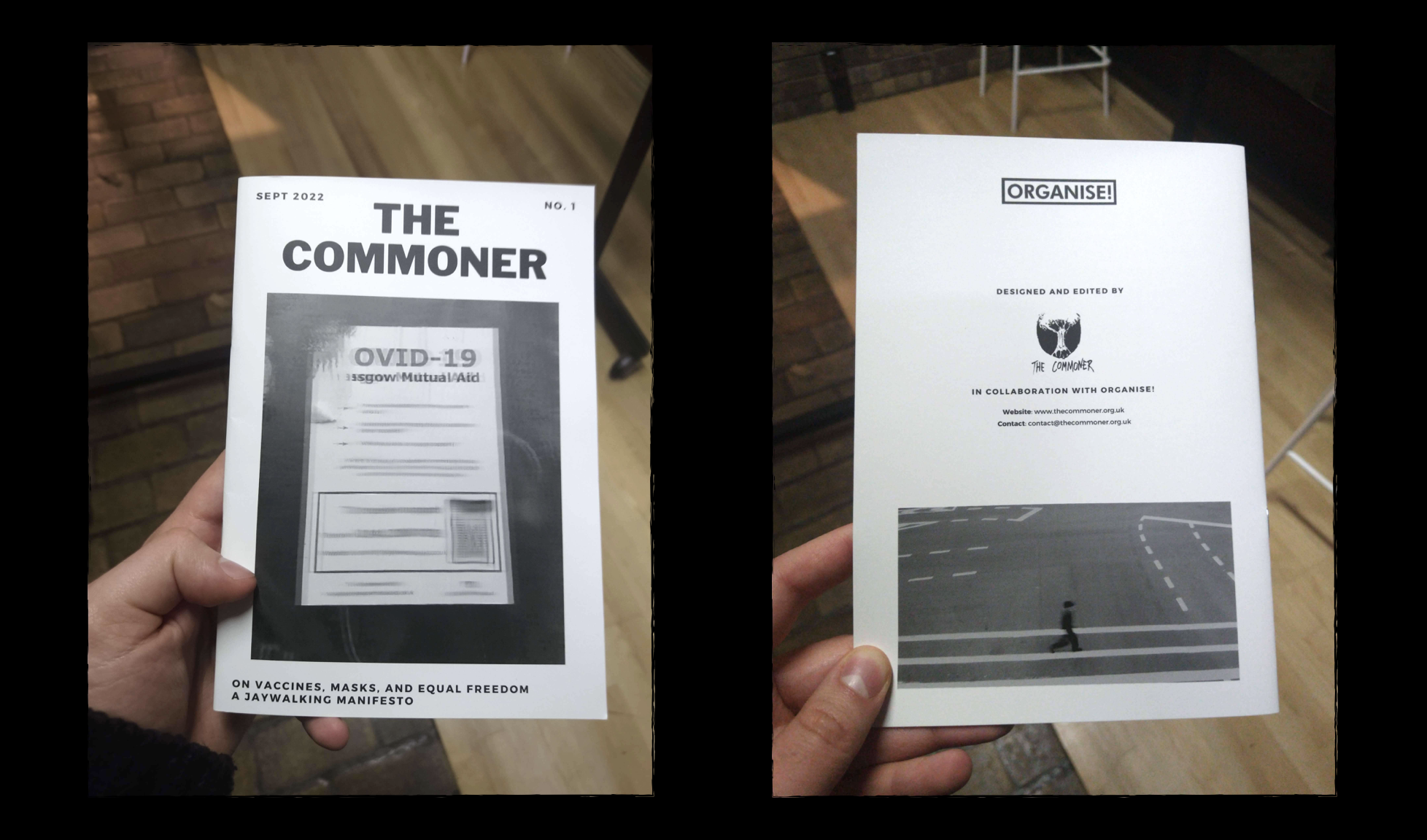 Some of our most read works touch on topical events. In January, we published an interview with Assembly, a magazine based in Ukraine. They provided an insightful perspective about the feeling amongst some Ukrainians in Kharkov, a city that was promptly occupied when Russia invaded Ukraine. At that time, we released a statement condemning Russian aggression whilst warning people not to fall for the West's attempts to act innocent or as a hero. We're proud as an organisation to not only function as a publication, but as a vehicle for clear statements and donations responding to international affairs like the invasions of Ukraine and Kurdistan and the attacks on reproductive health in America.
We have also enjoyed and felt privileged to to interview so many great anarchists, libertarian socialists, or otherwise radical groups. Our 'Global Voices of Liberation' series on our website contains 15 interviews, some of which we are planning to turn into an upcoming book called Anarchist Voices of the World. We are particularly proud of the translating and editorial work that went into our interview with the Federation of Anarchism Era, an anarchist federation organising in Iran and Afghanistan. We will continue to build on these efforts with more interviews over the coming year, with the hope of creating a deep well of insight into the practicalities and theoretical foundations of radical organising.
To all of you who read and support our work: thank you! We enjoy bringing novel ideas, points of discussion, and visions of a new world to you and will continue to do so for years to come. As ever, your patronage makes what we do possible — none of us are paid, but these funds are essential for things like site upkeep and print publications. In the meantime, feel free to get in touch with any questions, comments, submissions, or feedback.
Wishing you all the best in 2023.
The Editors at The Commoner
---
Special thanks to our patrons, who make everything we do possible:
Mr Jake P Walker, Josh Stead, Aryeh Calvin, Meghan Morales, Kimonoko, Maria Rahim, Choatic Capybara, Christian Kennedy, Cy.Maggran, Alex Paterson, Paul Treadwell, La Val, Bogdan Ovidiu Gheorghiu, Joshua Akapo, and Loke.
If you would like to support us and help us grow, consider becoming a Patron: