Good news, everyone! The Commoner has produced its first print issue.

Aptly named 'The Commoner No. 1,' this short but sweet issue features two of our favourite recent articles: On Vaccines, Masks, and Equal Freedom by Søren Hough, and A Jaywalking Manifesto by Simoun Magsalin.

Here's a peek at the cover: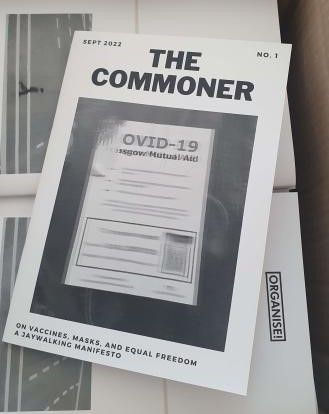 We would like to thank the folks over at Organise and the Anarchist Federation  for printing these for us, and for distributing them in their upcoming edition and book fair appearances (such as the Manchester Bookfair on Nov 5th). Our patrons will each get a free copy, leaving us with one hundred more copies to distribute where we see fit.
We look forward to creating more printed material in future (including a book called Anarchist Voices of the World), so keep an eye out! For those who are interested in receiving our first print issue, sign up now to become a Patron and we'll send it right over. Your support keeps the lights on and we are forever grateful for it.
---
Special thanks to our patrons, who make everything we do possible:
Mr Jake P Walker, Joseph Sharples, Josh Stead, Bliss, Hol, Aryeh Calvin, Rylee Lawson, Meghan Morales, Kimonoko, Squee, Manic Maverick, Maria Rahim, Choatic Capybara, Christian Kennedy, Anti Allting, Cy.Maggran, and Columba John.
If you would like to support us and help us grow, consider becoming a Patron: